Looking back at my old posts I realize I am way too wordy. 20 films plus my "double feature" add-ons is a bit much, and I know all you fine people are just reading the last 5 anyways. Ive actually had quite a bit of trouble ordering my favorite films into any discernible order, but thats always the case when you finally look at your list of favorite films of the year. Each films offers such utterly unique pleasures, from heart-rending WWII dramas to adrenaline-fueled gut punches in a scorching post-apocalyptic landscapes (big surprise, Mad Max-Fury Road is on the list. Shocking, I know). I actually got to work in a high-end theater over the summer, giving me an interesting perspective on the film industry and how audiences connect with films (and I got to meet some celebrities like Colin Farrell and Denzel Washington). Turns out Danny Pudi, who plays Abed on Community, is actually the polar opposite of his on screen persona, a charming and confident family man. Didnt see that one coming. Of course I wasn't able to catch a few films which most likely would have absolutely made this list (Steve Jobs, Macbeth, Carol, 45 Years, The Revenant, The Hateful Eight) but I was able so see a few absolute gems that I hope none of you have seen and will search out. So here we go!
21. ENTERTAINMENT
I would love to compare Rick Alverson (The Comedy) to Lynch or Wim Wenders, but he truly has a dark comedic mind that is totally unique. Gregg Turkington plays the most depressed, pathetic stand-up comedian ever as he slowly makes his way across the Mojave desert, performing at hole in the wall gigs which usually result in him berating his half-interested audience on how they don't appreciate his craft. Surreal and utterly deadpan, Entertainment will repulse yet fascinate you long after the credits roll.
Double Feature- WELCOME TO ME
Alice Klieg (Kristen Wiig) suddenly wins the lottery and immediately decides to start her own talk show, yet instead of interviewing guests she uses her air time to make the world understand her. The cable company lets her do whatever she wants so long as the checks keep clearing, yet soon realize that she is a deeply disturbed and troubled woman. Mental illness now has a time-slot as Alice begins digging deeper into her insecurities and failings on air, and you cant help but wonder if you should laugh at her antics or feel terrible for this damaged woman. The film is unafraid to go down some dark paths, and I applaud this film's vision.
20. FAR FROM THE MADDING CROWD
Based on Thomas Hardy's 4th novel, Far From the Madding Crowd is a period piece done right. Carey Mulligan shines as Bathsheba Everdene, who after taking control of a large farmstead is pursued by 3 men, all equally complex and infatuated with her in their own ways. Matthias Schoenaerts's loves her from afar with a certain quiet observation and respect, just waiting for the right moment. Michael Sheen steals the show as a wealthy suitor who can no longer hide his suffocating loneliness. Gorgeous costumes (seriously) and cinematography aside, Far From the Madding Crowd feels modern in its approach, crafting relatable, passionate characters and never falling prey to the stiffness of so many other period films. Plus Carey Mulligan is wooed with livestock, which is always a hoot.
Double Feature- BROOKLYN
Brooklyn somehow manages to be both dizzyingly romantic and also entirely sensible, a feat few films achieve. The story is your classic immigrant story, Irish girl moves to New York and falls in love with a Brooklyn boy who loves the Dodgers and his ma, yet every step of the way the film feels fresh and exciting, like this is the first time we have seen this story. Vibrant colors and a fantastic score make Brooklyn an absolute delight.
19. ME, EARL, AND THE DYING GIRL
Speaking of making an old story seem new and invigorated, Me, Earl, and the Dying Girl makes every other hipster coming of age film (Fault in our Stars, A Walk to Remember… you know the type) seem like they were first drafts, slowly perfecting the formula for a film like Me, Earl, and the Dying Girl. And what is so fascinating about this film is that while you can see most of the plot points coming, they are handled so brilliantly and maturely that you stop waiting for them to happen and just watch it play out. I went in a cynical moviegoer and left in amazement. (The climax to the film is perfection BTW)
Double Feature- DOPE
Dope is one of the most enjoyably uneven films I saw all year. The story is about 3 high school kids living the retro 90's hip-hop dream when they end up with a backpack full of dope and a slew of unsavory low-lifes who want it back. What makes the film work though is its energy, bolstered by a killer soundtrack and a fantastic debut performance by Shameik Moore. The direction is tight and LA provides the perfect backdrop for this high risk, high rewards tale that will leave you on a high.
18. JOY
Unfairly reviewed by critics, David O. Russell's film of perseverance hit a chord with me. There is something universal about having dreams as a child and slowly watching them get farther and farther away. There is a magical realism to the film, which contrasts the harsh realities of life that our protagonist Joy must battle. She wants to invent something, and decides to pursue her dream no matter what. I found the film to be a breath of fresh air, finding strength in every setback and not white-washing the realities of hard work.
Double Feature- Mistress America
Greta Gerwig must have truly changed Noah Baumbach drastically after they got married, because his last few films have had a pervasive positivity that has become a welcomed treat. (Im a sucker for hipster New-York rom-coms). The film follows Lola Kirke, a nervous college freshman who gets swept away into the New-York scene by Greta Gerwig, her soon-to-be stepsister who embodies the Millennial American Spirit. Hilarious, insightful, and above all intelligent, Mistress America feels like a directorial debut in its energy, and I loved every minute of it.
17. KRAMPUS
This movie has everything: Demonic elves, killer gingerbread men, amazing practical effects, laughs, scares, stop motion cut scenes, racist in-laws, you name it. Michael Dougherty perfected the holiday horror flick his first time around with the fan favorite Trick-R-Treat, and with Krampus he proves that he wasn't a one trick pony. This movie is basically a home invasion flick, slowly building in tension and WTF-ness until the final shot. (Which is great by the way). Adam Scott and cast treat the material with just enough seriousness for it all to work, and with references to Gremlins and even Calvin and Hobbes, this holiday horror is an absolute blast and a new personal favorite. (This movie is why my list is 21 and not 20. I just had to show it some love)
16. CLOUDS OF SILS MARIA
The premise is almost too good. Juliette Binoche plays an aging actress who gets the chance to once again bring to life a stage production that made her famous 30+ years ago about a corporate love affair between two women. Except this time she is playing the older woman, and decides to travel into the mountains with her young assistant Kristen Stewart to practice her lines. While there is no romantic tension between them, Binoche and Stewart begin to display the power struggles in the play itself, as Binoche struggles with her age. Stewart is a revelation, obliterating any Twilight-skepticism and matching this french legend blow for blow. The Clouds of Sils Maria is a multi-layered and masterclass drama that is often too clever for its own good, yet manages to stay grounded.
Double Feature- YOUTH
Perhaps one of the most beautiful films on this list (and that's saying something) Youth is an absolute feast. I'm a huge fan of films whose ambitions far exceed their capabilities, and Youth definitely falls into that category. Exploring death, family, beauty, and everything in between, the film utilizes sumptuous visuals and an truly breathtaking soundtrack in an attempt to at least scratch the surface of these unanswerable questions.



15. CRIMSON PEAK
It's unfortunate that Legendary botched the marketing of this film, since its very existence is something of a miracle. A character in the film even basically breaks the 4th wall an says that it is a love story that happens to have ghosts in it, not a ghost story. I would love Del Toro to go full horror one day, but ill take a visually breathtaking gothic romance in the vein of The Innocents or Wuthering Heights any day. My favorite scene was by far the cup scene with the surprisingly villainous Jessica Chastain (the sound of the spoon against the porcelain… chills). I love me some melodrama, and combined with the massive sets and bold artistic choices, Crimson Peak is a bloody good time.
Double Feature- TALE OF TALES
Like it was ripped straight out of the pages of medieval mythology, Tale of Tales is a bizarre anthology unlike any other this year. Loosely following a trio of morality tales involving giants, dragons, and witches, the film remains surprisingly spry narratively, never following the obvious story path and finding creative methods of weaving such primal tales of lust, betrayal, and wonder. Starring Salma Hayek, Vincent Cassel, Toby Jones, and John C. Reilly, Tale of Tales is an uneven but fascinating film that utilized pre-Raphaelite imagery to draw you into a fantastical yet brutal world where seeing a mythological creature during your morning walk would seem perfectly normal.
14. LOVE AND MERCY
A film far better than it should have been, Love and Mercy chronicles the genius and mental illness of The Beach Boys frontrunner Brian Wilson during his creation of the album Pet Sounds. Paul Dano always delivers excellent performances, but his portrayal of Brian Wilson may be my favorite male performance of the year. I was floored. The film avoids almost every cliche musical-biopic pitfall and crafts a story that has an enormous heart at its core. You will be surprised by Love and Mercy and you will never listen to God Only Knows the same way again.
Double Feature- THE VOICES
A similarly overlooked gem, The Voices also tackles mental illness, but in a….. slightly different way. Question, do you ever go home after work and feel unfulfilled? Are the pressures of life weighing you down? Are your pets telling you to kill women? Well for Jerry, the answer to all these questions is a resounding yes. Ryan Reynolds is one of those actors who shines in very specific roles, and his performance in The Voices is possibly his finest work to date. The film hits the sweet spot in being both hilarious and unnerving, a dark comedy in the truest sense. Its also kinda brilliant.
13. IT FOLLOWS
I feel comfortable placing It Follows under the new umbrella of Hipster Horror. Both It Follows and Spring are fantastic examples of relationship horror, adding horrific genre elements as a means to investigate the darker aspects of human interactions. The plot centers around a young woman who, after sleeping with a young stranger, now has the misfortune of being endlessly pursued by…. it. "It" can be anyone, a close friend, a total stranger in the background. The rules and origin of "it" are kept ambiguous intentionally so as not to distract from the thematic elements at play. People have been saying It Follows is about STD's, but I disagree. I believe its more about the seriousness of sex, how its repercussions extend far beyond STD's and how gossip and shame are shared. There are a lot of ideas in this film, but luckily the film never feels pretentious. The 80's soundtrack is one of the best this year, and the premise is used creatively to construct instantly memorable scenes equally part beautiful and terrifying. Watch it.
Double Feature- SPRING
If Richard Linklater (Before Sunset, Boyhood) ever made a Lovecraftian horror movie, it would probably look a lot like Spring. Fleeing the authorities, a young man flees to an impossibly beautiful Italian coastal city where he falls for an impossibly beautiful Italian woman named Louise who has a secret. Like Crimson Peak, this is a romance at its core with horror elements, and lives somewhere between your generic genre classification. Director Justin Benson said in an interview that he got bored of vampires and zombies and decided to try and create an entirely new type of monster with its own mythology. As a horror fan those words are like music to my ears, and I cant wait to see what he does next.
12. SLOW WEST
I cannot understand why this film isnt being talked about more. Westerns are all the rage now, yet Slow West separates itself from the pack with its almost quirky and offbeat aesthetic. There is a touch of fantasy in the film that paints the west as a land just waiting for stories and heroes to be made. Kodi Smit-McPhee is a young scottish boy traveling across country in search of his lady-love, and along the way picks up Michael Fassbinder. Ben Mendelsohn (quickly becoming one of my favorite actors) plays the villainous Payne, who wears possibly the greatest fur coat ive ever seen. Strange characters and events come and go on this journey, which culminates into one of the best shootout/action sequences of the year.
Double Feature- BONE TOMAHAWK
The biggest surprise of the year for me easily. In fact this film should probably switch places with Slow West. Not for the feint of heart, this horror/western is a marvel, delivering old school thrills and action due to rock solid direction by first timer S. Craig Zahler. Kurt Russell is perfectly cast, but its Patrick Wilson and especially Richard Jenkins who steal the show. The story follows a group of men who must travel into cannibal country to rescue townsfolk. Everything about this film WORKS, from its perfectly proportioned humor to its chilling finale. I can pretty much watch anything no problem, but there is a scene in this film where I had to watch from behind my fingers. Its been a while since I've done that. Bravo.
11. DER SAMURAI
An utterly bizarre film, Der Samurai is a sort of queer retelling of the werewolf story set in a small German town. One part slasher movie, another part Freudian nightmare, the film follows a young, lonely cop trying to deal with local wolves. One day a package arrives at his house by mistake, which leads him to travel into the deep dark woods to the proper address where he finds another young man, but feral… and wearing a wedding dress. This man promptly draws a samurai sword out of the package and thus begins a night of mayhem and decapitations. Is this feral man a representation of the cop's conflicted sexuality, or perhaps he represents his anger for living such a pathetic life in a pathetic town, taking care of his dying mother. Or maybe he is just a crazy dude. Who cares, this movie runs purely on midnight-movie logic, with surreal happenings all flowing together to create an unforgettable experience. I hate calling new films "cult classics" but…. yeah, it is. (Warning, this film is not for everyone)
Double Feature- A GIRL WALKS HOME ALONE AT NIGHT
A perfect companion piece to Der Samurai, A Girl Walks Home Alone at Night is the first Iranian, B&W, vampire fantasy flick (definitely hipster horror). With smatterings of Jim Jarmusch and Let the Right One In, the film is set in a town called Bad City where bodies are piling up outside the walls mysteriously and there have been sights of a dark figure gliding through the streets, delivering brutal street justice. Beautifully framed and acted, the film is a curiosity of the highest order. (The soundtrack is phenomenal as well)
10. ROOM
Brie Larson has been killing it for the last few years (Short Term 12, Trainwreck), but with Room she is a marvel. After being kidnapped and used as a sex slave in a locked shed, her character has a baby boy named Jack who becomes her reason for living for the next 7 years. Jack only knows "room", and Larson struggles to explain to him that there is a world outside of room, filled with colors and smells and people. Every emotion in the film rings true, and by the end of the film I had experienced such a wide range of emotions that I was honestly dazed. It is fantastic filmmaking, bold and human and hopeful and one of the best films of the year. (The kid who plays Jack, Jacob Tremblay, gives one of the best child performances I've ever seen).
Double Feature- ANOMALISA
Im not entirely sure what calling a film "human" means exactly, but both Room and Charlie Kaufman's transcendent Anomalisa seem to fit the bill. From Eternal Sunshine of the Spotless Mind to Synecdoche, New York, Kaufman has a unique outlook on the human experience, and isn't afraid to use any cinematic tools at his disposal for observe his subject material. This couldnt be more true with Anomalisa, a very adult, stop motion story about a brit in Cincinnati who experiences an anomaly in his normal, soul-crushing experience. "Please dont be a gimmick" I told myself over and over going in, and within 10 minutes I forgot I was even watching a stop-motion film. I keep thinking about this film at the strangest times, and I'm curious what im going to think of it 5 years from now.
9. PHOENIX
I consider this film to be a "perfect" film. Not a line of dialogue or shot is wasted, every component seems vital in telling such a strange story of redemption in the face of betrayal. The premise sounds like a bad soap opera, a woman returns from a concentration camp to post-war Berlin after having facial reconstructive surgery, only to start a relationship with her old husband who does not recognize her as his wife. Yet this masterpiece handles the material with complete seriousness, and even has film noir undertones (as well as numerous Hitchcock elements) that make this film completely unforgettable. Nina Hoss's performance is one of this years best, and her final scene….. wow. And hey, its on Netflix!
Double Feature- QUEEN OF EARTH
Going full "Women on the Verge of a Nervous Breakdown"Alex Ross Perry's Queen of Earth is 2015's female freakout flick you didnt know you needed in your life. (And im not being sexist, female freakout flicks were practically a genre in the 70's). Anyone who knows me knows I adore Elizabeth Moss, one of my many spirit animals, and when I say she gives her career's best performance in this film, I mean it. After a bad breakup, she goes to a cabin by a lake with her best frenemy Katherine Waterson for a bit of R&R. Slowly her mental state begins to deteriorate as old fears and paranoia begin surfacing. The transformation is like watching a car crash, and wouldn't know it its also on Netflix! Go, now.
8. HEAVEN KNOWS WHAT
One of the most intimate and spellbinding films of the year, the film is actually based off the lead actress's personal memoir of her life as a heroin addict living on the streets of New York. Practically all the actors in the film used to be homeless, and the film feels like a true fly on the wall documentary. Realism aside, Heaven Knows What is not a love story, but more of a film of desire. There is something primal about these characters as their desire for connection is equal to their desire to simply survive the night. Raw and authentic, this is a film that pulls no punches yet still has compassion for its broken, lost characters.
Double Feature- TU DORS NICOLE
A beautiful film to just get lost in, Tu Dors Nicole (You're Sleeping, Nicole) plays out like a small town memory. Its hard to explain the appeal of the film, but there is an endearing laziness that washes over every frame that gives the impression that this could all be taking place under some alien sea. With touches of surrealism, Tu Dors Nicole is one of those meaningless film that suddenly mean everything.
7. STAR WARS VII: THE FORCE AWAKENS
Look, I've heard all the complaints. It borrows far too many plot points from the OG trilogy, it had too many references… and whats interesting is that usually when I watch a film like this, I walk out loving it but then small issues start popping up in my brain, spoiling the movie. The Force Awakens is one of the few films Ive ever seen where none of my issues taint how much I loved watching this movie. In terms of pure theater entertainment, this movie is in a league of its own. Bold and operatic, JJ Abrams trashes exposition (a middle finger to the prequels) and instead focuses of the action, throwing us onto different worlds and universe-altering events with gusto. The film holds up fantastically to multiple viewings, which is essential for a Star Wars film, and the entire new cast is perfection. Daisy Ridley stole the movie, and Adam Driver's Kylo Ren is one of my favorite villains in a long time. Above all it was FUN, with great banter and gorgeous set piece that felt instantly iconic. I would love to spoil everything and talk specifics, but for now just know that I think JJ actually did it. (Now if Episode VIII borrows too much from the OG trilogy, then I will have major issues. That will be the real test)
Double Feature- JUPITER ASCENDING
Screw you haters, this movie was great. Remember when I said I loved melodrama? Yeah, Jupiter Ascending is like General Hospital in Space. I loved the whole concept of the universe being a collection of real estate, and its overall weirdness won me over. Eddie Redmayne overacted straight into my heart, and the overall design was gorgeous. Mila Kunis is horrifically miscast, but if you have some friends over and nothing to watch, throw in Jupiter Ascending and one way or anther you will get your moneys worth.
6. THE MEND
One of my the biggest surprises this year was throwing on some movie called The Mend. I didn't know anything about it, and was completely entranced by it from the start. The premise is fairly typical, a New York drama following a drifter brother (Josh Lucas) who reconnects with his over-achieving brother (Stephen Plunkett). This dysfunctional tale of brotherly love skews its genre trappings and moves freely from scene to scene, a rousing and abstract dramedy that refuses to stay still. The humor is rough and the breaks rougher, and the film isnt afraid of ambiguity, but there is a certain positivity to it all. Also Josh Lucas's performance is one of my favorite this year, and its a shame he won't be recognized for it. Highly recommended.
Double Feature- DIGGING FOR FIRE
Mumblecore and self-discovery are also featured in Joe Swanberg's latest Digging for Fire, a story about a married couple who discover that their back yard is filled is strange objects and decide to dig them up. The analogy is obvious, as they dig in their backyard, they also dig up old emotions and resentments long buried. Its a small film, but the cast is solid and it hits all the right emotional beats. Plus Orlando Bloom makes a surprisingly enjoyable appearance. Where has that guy been?
5. EX MACHINA
If I had to use one word to describe Ex Machina, it would be "surgical". Everything about this movie is razor sharp, from the editing to the screenplay, there is not an ounce of fat on this film. Alicia Vikander embodies the uncanny valley as Ava, a secret AI who is tested by Domhnall Gleeson to determine whether or not she can pass as human. As this advanced turing test progresses, Director and writer Alex Garland (Sunshine, 28 Days Later) keeps us guessing by constantly staying ahead of the game. Not since Agent Starling took on Hannibal Lector has jail cell power plays been this fascinating. Oscar Isacc, Ava's creator, provides a much needed relief to the films tension, and never lets the film become overbearingly clever. This film came out earlier this year and it has never left my mind since.
Double Feature- Z FOR ZACHARIAH
I also saw this small post-apocalyptic film early this year, and it too has stayed with me. The end of the world has never looked so good with a cast of Chris Pine, Margot Robbie, and Chiwetel Ejiofor (they are the only actors in the film). Post apocalyptic in setting only, this is a old-school drama involving a love triangle created purely out of desperation. As they slowly try to build something out of this dead earth, Chiwetel Ejiofor carries the film with some the best acting this year. He is able to express so much nuance with his facial expressions, his character could have been mute and it wouldn't have changed the power of his performance one bit.
4. INSIDE OUT
It's been 5 years since we got a Pixar film worthy of its golden age brethren, but with Inside Out Pixar shows that they still have the stuff. In many ways Inside Out is the culmination of what makes Pixar so unique. They have always been more interested in the emotional honestly of their stories than anything else, and by making actual emotions characters, Pixar is given the unique chance to explore what makes humans tick from the inside out. (hey ohhhhh) I actually ended up watching this movie multiple times while I was working at the theater, and that's when my appreciation for it grew and grew. Its message is so unique for a children's movie, and just like all good Pixar it speaks to adults just as much as children. I deal with depression like everyone else on the planet, and there is nothing worse than being told to "be happy". Inside Out is all about being true to your emotional state, to learn to accept the good with the bad. The voice acting is phenomenal, the score turns me into a total mess, and its one of the best films of the year.
Double Feature- THE LITTLE PRINCE
There is something classic about this animated gem. Despite using both claymation and CGI, it never feels like it is trying to be modern or subversive. It tells its story with an old-school charm that is utterly refreshing and beautifully constructed. With a huge cast of voice actors (Rachel McAdams, Paul Rudd, Benicio Del Toro, Marion Cotillard…) it is one of 2015 hidden treats just waiting to be discovered.
3. THE LOBSTER
Like a modern day Luis Bunuel, Greek director Yorgos Lanthimos (Dogtooth, Alps) has been making a name for himself among lovers of surreal cinema. The Lobster is his first English language film, and his greatest cinematic achievement to date. It sports the best premise of the year (single humans are taken to hotels where they have 45 days to find a partner or else they are turned into an animal of their choosing), and what's amazing is that in the context of the story this plot device seems totally normal. Normal I would assume a premise this good would be wasted, but Yorgos finds some truly brilliant ways to explore how our sad little species desperately struggles for connection. Sharp, insightful, surprisingly romantic, and even laugh-out-loud hilarious (Colin Farrel kicks a kid in the shins…. its amazing), The Lobster is a genius exploration of human relationships that I can honestly say you've never seen before.
Double Feature- A PIGEON SAT ON A BRANCH REFLECTING ON EXISTENCE
Every bit as bizarre and experimental as The Lobster, A Pigeon Sat on a Branch Reflecting on Existence is a quirky collection of near wordless intertwining stories which investigate the human condition in the broadest strokes imaginable. The camera never moves, soaking up the meticulous mise en scene as strange characters (all with white faces) try to make sense of life's little absurdities.
2. MAD MAX: FURY ROAD
Possibly the best thing to come out of Fury Road is that now when I see an action movie that cant live up to George Miller's cinematic opera to violence, I can just yell "MEDIOCRE!". Watching Mad Max: Fury Road for the first time was like watching The Matrix for the first time, you can just tell you are witnessing a future classic. What makes Fury Road so incredible is that by all accounts it should have been a disaster. Re-shoots, a lengthy production with numerous pitfalls, a 70 year old director who hasnt made a good film since the 80's (his recent films include the Happy Feet films), and the obvious fact that its a sequel that no one was asking for. Yet despite all this Miller delivered what many are calling one of the greatest action movies EVER FILMED. There is nothing I can say that hasnt been said a million times by now. I've seen it 5 times now and it still holds up. The trailer got it right, 2015 DID in fact belong to the Mad.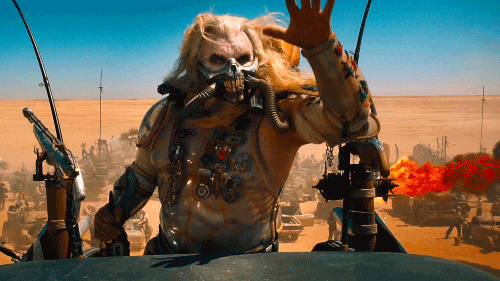 Double Feature- TURBO KID
Fan service done right, Turbo Kid is the love child of Mad Max and G.I. Joe. Hyper violent yet also somehow charming, the movie plays like a Saturday morning toy commercial as "the kid" finds the armor of his favorite comic book hero in a crashed ship, giving him powers to defeat the evil Zeus and Skeletron. Throw in Masters of the Universe as a reference I guess while you're at it. Pop culture and 80's nostalgia combine to create an adventure like no other this year. With fantastic practical effects and a perfectly synthy score, Turbo Kid does not disappoint and is perfect for those of us who grew up on Thundercats and Count Chocula.
1. MOMMY
I've been of fan of ridiculously talented Canadian Xavier Dolan for years now (He is 26… how….), and Mommy was one of my most anticipated films this year after it won the Jury Prize at Cannes. Dolan has always played fast and loose with his films, with stylistic flourishes that critics want to call amateurish, yet are forced to admit add an energy and much needed youthfulness to the foreign drama scene. (The film has a 1:1 aspect ratio, which again feels like it should be a gimmick but it actually works thematically) Mommy is about a son who after another run-in with the police is returned to his biological mother, who both loves him more than anything and is overwhelmed by his violent, unpredictable nature. I related to so much in this film, the rollarcoaster of family relationships, dealing with social pressures and struggling to discover yourself apart from the preconceptions and expectations of the world . We love who we love, but what happens when you discover that you both have entirely different values and natures. Do you muscle through it? Are relationships worth it if we must change so much for each other? There are questions in this film I will be thinking about for years, and when I first saw it I knew no other film would move me the same way this year.
Double Feature- GOODNIGHT MOMMY
No, I'm not making this Austrian horror flick Mommy's double feature because they have a similar title. Without spoiling either film, they both share themes of the special relationship between mothers and sons, as well as how these relationships can deteriorate. "Mother" returns to her country home after facial reconstruction, where she is greeted with mistrust by her identical sons Lukas and Elias. With her face bandaged and scarred, the twins begin to doubt she is actually their mother. (Just realizing this movie would have made a great double feature for Phoenix) This is a dark film, beautifully shot but brutal especially near the end, and marks a high point for foreign horror and lovers of the twisted. (And just when you thought you could hate cockroaches any more….)
And as always, here is a supercut summing up this amazing year.
OTHER CATEGORIES
Films That Almost Made the Cut: Cop Car, End of the Tour, While We're Young, Cinderella, Sicario, Song of the Sea, Faults, The Gift, 71, Testament of Youth, Spotlight
Films That actually aren't That Bad: Spectre, American Ultra, Man from U.N.C.L.E., Tomorrowland, Manglehorn, Jurrasic World, Terminator: Genisys, Ant-Man, Kingsman, Goosebumps, Chappie, Unfriended
Films I Hated with a Passion: Kill Me Three Times, Home Sweet Hell, True Story
Best Horror Films: Let Us Prey, Cub, Last Shift, The Hallow, We are Still Here, The Visit, The Hive, Cooties, What We Do in the Shadows
Delightful Oddities: Wild Tales, Hard to Be a God, Lost River, Alleluia, Yakuza Apocalypse, Hellions, The Duke of Burgandy
Personal Favorite Performances: Ben Mendelsohn (Mississippi Grind), Jason Segel (End of the Tour)
Disappointing Films: Focus, Pan, Black Mass, Legend, The Lazarus Effect, Child 44, Self/Less, Everest, Age of Ultron, The Green Inferno, Aloha, Sinister 2, A Little Chaos
Overrated Films: The Assassin, The Tribe, Mr. Holmes, The Stanford Prison Experiment